Coriander Oil Uses and Benefits
Essential Oil Spotlight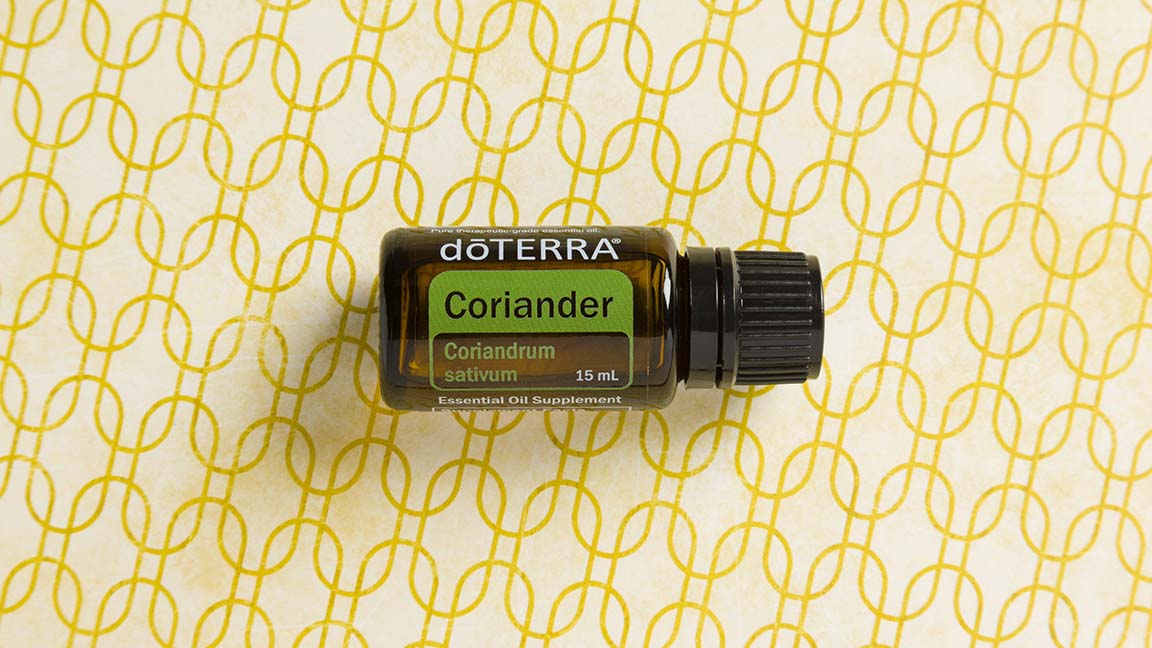 Coriander Oil Product Description
Taken from the same plant that produces Cilantro essential oil, Coriander oil is a unique oil that can be used internally to promote digestion,* aromatically for relaxation, topically for clear skin, and more. While coriander is widely known for its use in the kitchen, it is clear that the benefits of Coriander oil reach far beyond the realm of cooking—making Coriander a popular oil for everyday use.


Where to Buy Coriander Oil
If you are ready to order your own doTERRA Coriander essential oil, visit our Coriander oil page, and buy your own today. Whether you plan to use Coriander oil to spice up your favorite dishes, apply it to your skin to maintain a healthy looking complexion, or add it to your water to aid in digestion,* you will soon find many practical uses for this essential oil. When you buy essential oils from doTERRA, you'll receive high quality, potent oils that are useful in everyday life and safe to use at home. For more Coriander oil uses, take a look at the uses and benefits section below.

Coriander Oil Uses and Benefits
Coriander oil is commonly used internally to aid in digestion.* To utilize these benefits of Coriander oil, consider adding two or three drops of the oil to a doTERRA Veggie Capsule and swallow to promote digestion.* You can also take a few drops of Coriander essential oil internally after eating a large meal to assist with digestion.* By incorporating Coriander oil into your daily routine, you'll enjoy the soothing properties of this oil that help promote digestion throughout the day.

Did you know that Coriander oil can be particularly beneficial for the skin? To maintain a clear complexion, or to improve oily skin, use Coriander oil directly on the face after showering. Dilute with doTERRA Fractionated Coconut Oil before applying to avoid any skin sensitivity. You can also add one drop of Coriander oil to your daily moisturizer to help improve the appearance of your skin. When you add Coriander oil to your skin regimen, you'll start to see the cleansing properties of this oil contribute to a clear complexion and better looking skin.

There are several soothing benefits of Coriander oil for the skin and the body, especially when applied for massage. After a short workout, apply Coriander to the legs for a soothing massage. You can also apply Coriander oil to the back of the neck or bottom of the feet to promote relaxation at the end of a long day, or as you prepare to go to sleep. Remember, when applying essential oil directly to the skin, dilute with doTERRA Fractionated Coconut Oil, or combine with your favorite moisturizer to avoid skin sensitivity. Whether you use Coriander to help you wind down after a workout, or to relax after a taxing day, this oil will lend its topical soothing benefits to the body as you rest.

For years, chefs have used many parts of the Coriander plant, including the seeds, to add flavor and spice to a variety of meals. Coriander oil can provide a warm, spicy flavor, which makes it a favorite for many dishes. Consider adding a drop of Coriander to your favorite curry recipe for an extra boost in flavor. Or, you can enjoy the fragrant, flavorful attributes of Coriander oil in this recipe of Steamed Shellfish in Aromatic Asian Broth. Using Lime, Ginger, Black Pepper, and Coriander oils, you can enjoy the best flavors of Asia in this unique, savory dish. Learn how to make it today!

Looking for a way to use Coriander oil in a diffuser blend? Add three drops of Coriander, two drops of Peppermint, and two drops of doTERRA Balance® in a diffuser for a calming and uplifting aroma. This is a good blend to diffuse around the home when you want to promote a positive attitude and calming atmosphere. For a fresh spring diffuser blend, combine three drops of doTERRA Balance®, two drops of Wintergreen, and one drop of Coriander into the essential oil diffuser of your choice. This is the perfect blend to create a green, refreshing aroma in your bedroom, office, or any area that can use a little bit of a spruce. Coriander oil also blends well with Slim & Sassy®.

Lavender is the most chemically similar essential oil to Coriander—these two oils share several of the same chemical constituents, which means they share many of the same benefits. So, if you are out of Lavender, you can find similar soothing benefits from Coriander oil for skin, body, and relaxation.

Plant Description
An annual herb also known as cilantro, Coriandrum sativum is a highly aromatic plant that has many uses. Cilantro oil is extracted from the leaves of this plant, while the coriander seeds provide a different oil, known as Coriander. Both the leaves and the seeds of the Coriandrum sativum plant are commonly used in cooking for their aroma and flavor.


Chemistry of Coriander Oil
Main Chemical Components: Linalool, α-pinene, γ-terpinene, camphor

One of the main components of Coriander oil is linalool, a monoterpene alcohol known for its toning properties. According to one study, the ingestion of linalool showed strong association with improvements in learning, memory, and overall cognitive health.* Aside from promoting healthy brain function, linalool has also been known to contribute to the relaxation of blood vessels, which is helpful when the body is at rest.*


Oils that blend well with Coriander oil
With a green, herbaceous aroma, Coriander is known for blending well with minty, fresh essential oils like Peppermint or Wintergreen oil. The combination of minty essential oils and refreshing Coriander oil produces a fresh, clean scent.

Learn more about the benefits that Coriander oil holds for the skin by watching this video:

Video disabled by your privacy settings
Cautions
Possible skin sensitivity. Keep out of reach of children. If you are pregnant, nursing, or under a doctor's care, consult your physician. Avoid contact with eyes, inner ears, and sensitive areas.
*These statements have not been evaluated by the Food and Drug Administration. This product is not intended to diagnose, treat, cure, or prevent any disease.
---
How would you rate this post?