DIY: Aromatherapy Jewelry
for your dōTERRA Essential Oils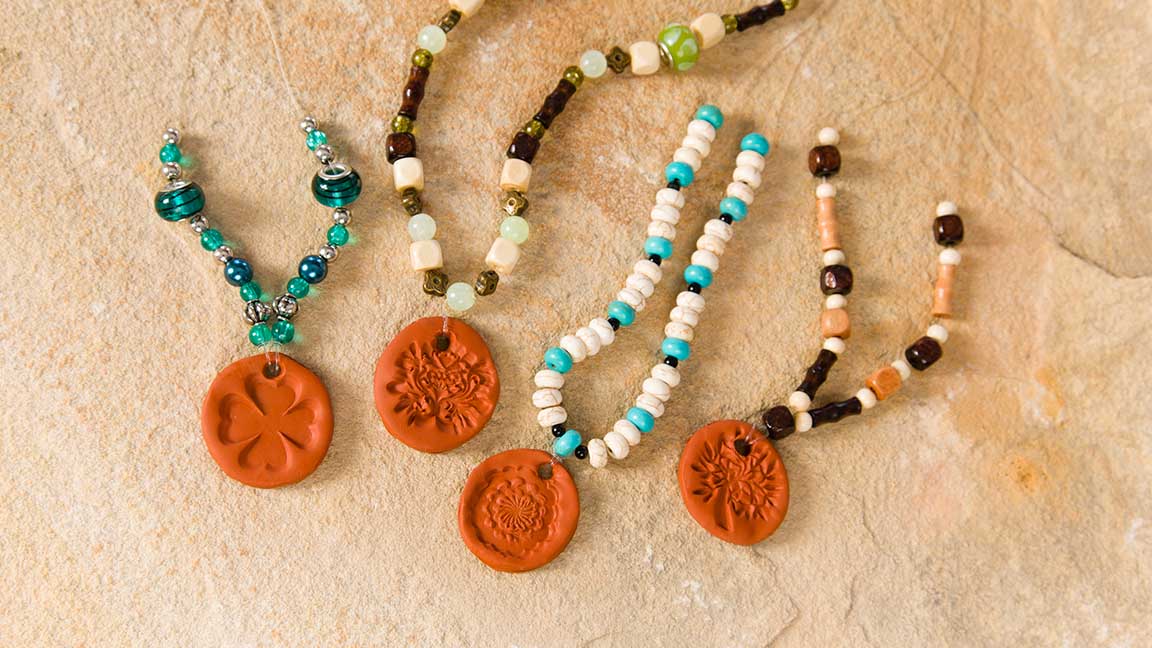 But first, what is aromatherapy jewelry? The jewelry itself is made out of natural clay that can absorb essential oils (such as terra-cotta). You can also find aromatherapy jewelry that is made out of glass or wood (view examples here and here). You can make any type of jewelry you desire: earrings, necklaces, bracelets, pendants, beads, etc. Once the clay is sculpted and dried, you can add the essential oil or blend of your choice to the jewelry. The oil absorbs into the clay and allows you to smell and experience the power of essential oil aromatherapy throughout your day. It's like your own personal diffuser that goes wherever you do!

Here is a tutorial on how to make necklace pendants, but you can use this same technique to make car air fresheners, Christmas ornaments, key chains, and more. They make wonderful presents as well.

Editor's tip: Store your scented jewelry when it is not being worn in your linen closet or dresser drawers to keep fabrics smelling great.


Ingredients:
Terra-cotta clay (you can find terra-cotta clay that you can bake in your oven or air dry at most large craft stores)
Sand paper
Stamps (small—no more than 1 inch in diameter)
Shish kabob stick (or toothpick)
String
1-1.25 round cut-out object (can use caps left over from hair products, bottle caps, cookie cutter,etc.)
Rolling pin (or pen/pencil will work)
Scissors
Aluminum foil
Wax paper
Directions:
Grab a handful of terra-cotta clay and rub in palms of hands until it's soft and pliable.
Place a piece of wax paper on the table.
Use the rolling pin to roll out the clay until it's 1/8 inch thick.
Take your round object for cutting out circles and press firmly into the clay to make the pendant.
Remove the excess clay from the cut out pendants. Take each pendant and stamp the design into clay.
Once you have stamped the pendants, take your shish kabob stick (or toothpick) and make a hole in the pendant. Make sure the hole is big enough to fit two strands of string into.
With the left over clay, make a few small round beads and put a medium to large size hole in the center of it.
Once all the pendants have holes, place them on a cookie sheet covered in aluminum foil and bake or air dry according to the specifications provided with your clay.
If baking in the oven, be careful to not overbake. They may seem bendable as soon as you take them out of the oven, but they will harden once they cool completely.
Once cool, use sandpaper to lightly smooth away any rough edges. It will temporarily change the color of the clay, but it will return to normal once essential oils are applied.
Take your string and cut it to your desired length. You might want to add 4-5 extra inches just to be safe. You can always cut the string shorter later on.
Take your pendant and put both ends of your string through the hole. Pull the ends through and put them through the loop. Pull tight. This will help your pendant lay flat on your chest.
If you want a shorter necklace that can easily be taken on and off, follow steps 14-15. If not, just tie the two strings together.
On one end of the necklace tie a knot a couple inches down. Place a bead on next and then tie a knot on top of the bead so the bead is securely in place. On the other end of necklace, tie a loop that is large enough for the bead to fit through. Cut off any extra string. To take your necklace on and off, simply put the bead in the hole that will act as a clasp.
Your necklace pendant is done! Now let's add the aromatherapy element to it.
Put 1 drop of your preferred essential oil onto the pendant. Rub the oil around.
That's it! Your necklace is ready to wear so you can enjoy mood-enhancing essential oils throughout the day! If the scent begins to fade, you can add another drop to the pendant. Remember that a little essential oil goes a long way. 1 drop is plenty.
How would you rate this post?